All good things must come to an end, and that includes near-os. Plus, we were rested and ready to get back to the trail!
It seemed exceedingly unlikely that we'd find an English speaking driver headed to Lescun, so we took transit as far as we could and figured we'd try again the last 5km.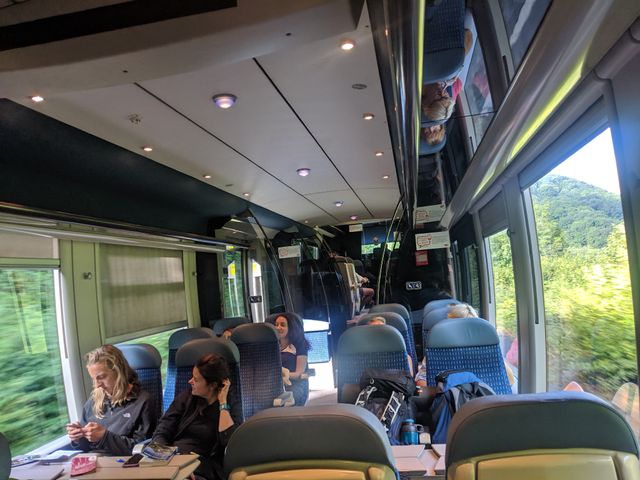 This plan worked great and after twenty minutes or so with our thumbs out, a nice gentleman gave us a lift the last little bit, and we were back in Lescun, picking up the trail exactly where we'd left off.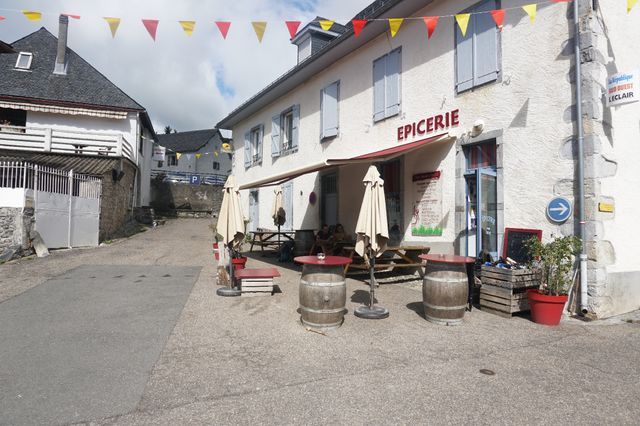 And so began the climb back into the mountains -- all 800 meters of it! It wasn't super hot, but the humidity was back and the breeze was gone so it was far from pleasant, but it was still a nice time since we were following a well-beaten trail (often times a dirt road).
Eventually we crossed the pass out of the valley and hopped onto the ridge which divides France and Spain. Naturally, the clouds disappeared immediately. However, we weren't going into Spain -- we were following the border, so back into the clouds we went.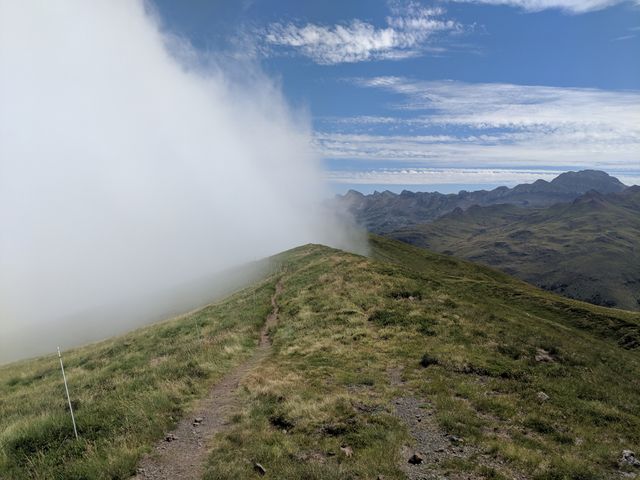 We were unfortunately in clouds most of the day, but they were patchy. Sometimes they would part and we would be rewarded with dramatic views of valleys and cliffs, previously hidden from us, but right there.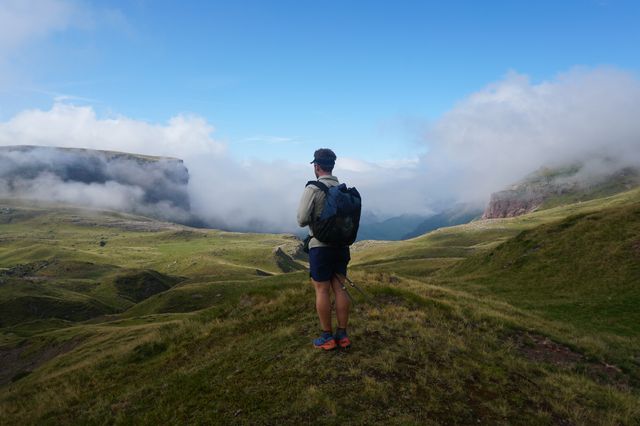 We kept on climbing, up and up and up. Eventually we reached a refuge up by our first Pyrenean lake. We got an exceptionally tasteless beer and hung out with the mountain dog for a bit before heading on.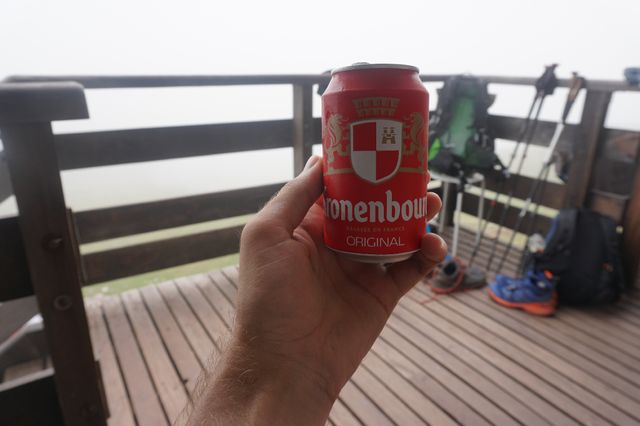 After that it was time to crush some miles -- we had a lot of flat-ish terrain to cover (well, following ridgelines and staying at roughly the same elevation) before a big descent followed by a big ascent.
The periodic cloud-clearing would happen every so often and we'd still get stunning views.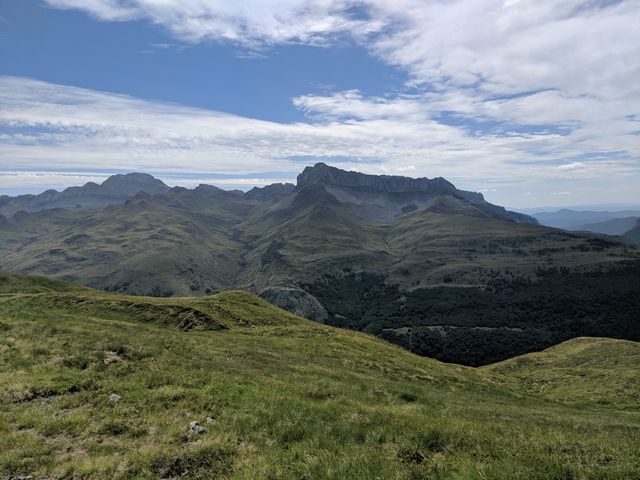 We also made some friends along the way (who started licking the salt off my knee, which tickled something fierce, and then tried to eat my hat for probably the same reason)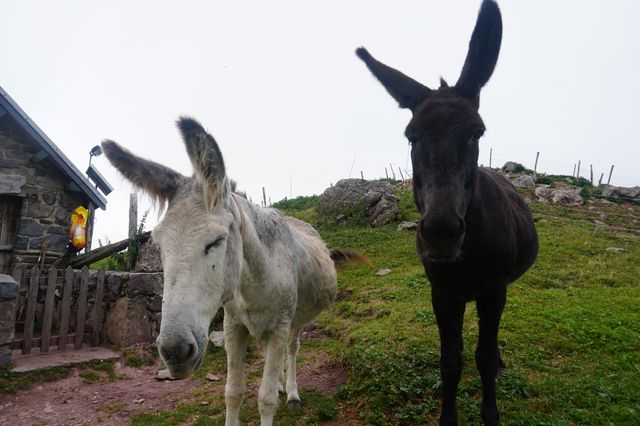 Eventually I hit the stage's nadir (which was a creek), where I ate my dinner before beginning my steep steep steep 400+ meter climb. It was largely in a beech forest, which I would've appreciated if it was sunny, but it wasn't, so all that meant was no breeze. Oh well, it was still a good time and it felt good to see how far my legs, cardio, and aerobics have come in just a week.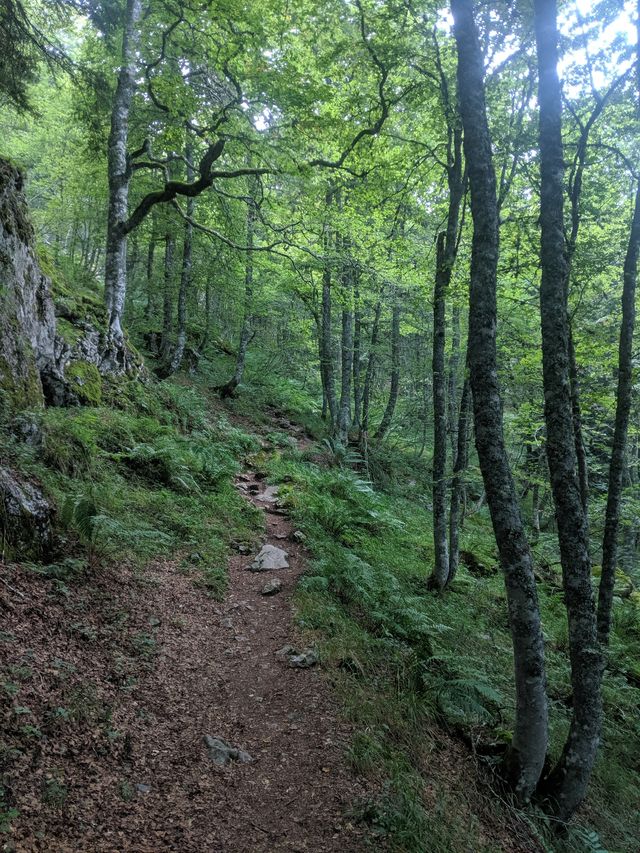 The last 100 meters or so were above the forest and became pretty exposed, like this ladder situation.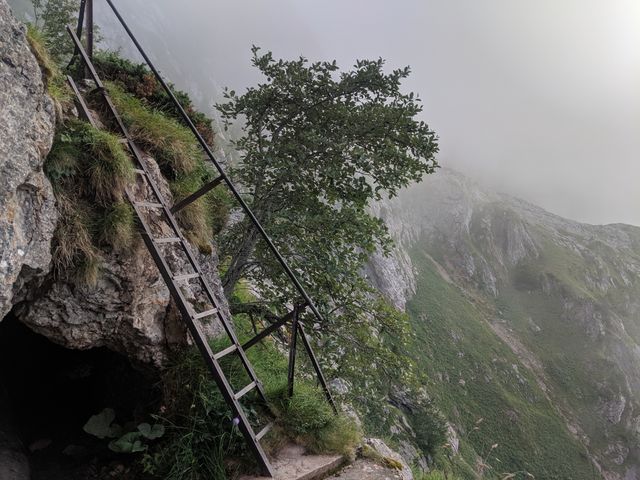 We eventually reached the goal though: an alpine lake high on the Pyrenees. There was forecasted to be a storm (or at least rain) tonight, so we sought out a high campsite with good drainage.
This is my first night on my new pad -- I'm excited to see how this goes!