I woke up bright & early because we had a lot of things to do:
I needed to get my phone from the truck (~4mi away at the tow yard, in a town without any taxis)
We needed to get to Lees Ferry, with all of our stuff
I need to tell our outfitters that we don't need JB's truck shuttled around or stored anymore
I needed to figure out if JB was going to come with us or not (and plan for both outcomes)
We needed breakfast
Thankfully, #5 was an easy one to solve! There was a diner next door, so we went over there and crossed that one off.
I called our crew that was at Lees Ferry, and came up with a plan: Joe would drive JF's truck (since it has a kayak rack, and JF needed to be at Lees to coordinate / rig) to Tuba City and pick us up. I wanted to be at Lees Ferry well before the outfitters show up at noon. It was about a 90-minute drive from Tuba City, so he agreed to meet us at the hotel at 9:30am.
The tow yard opened at 9am, and Eivind went for a run over there at 8:45, like a champion. Unfortunately, they wouldn't let him into the truck (even though they recognized him from last night) as he wasn't the owner. Dang. Okay, we'll come back to that one.
JB came to breakfast and dropped the decision: he's going. He delegated dealing with insurance to his parents, and there's nothing more that he can do, so let's go have some fun. Awesome!
I hopped on the phone with the outfitter and let them know the situation. They were extremely helpful and relieved that there were no injuries. They also offered to be the insurance delegate, but that was already sorted out.
Looks like things might work out after all!
At 9:30 sharp, Joe showed up to the hotel in JF's truck. JF's truck is a little smaller than JB's, so we had to be even better with packing. However, we eventually got everything rigged and then piled in.
First stop: the tow yard to get my phone.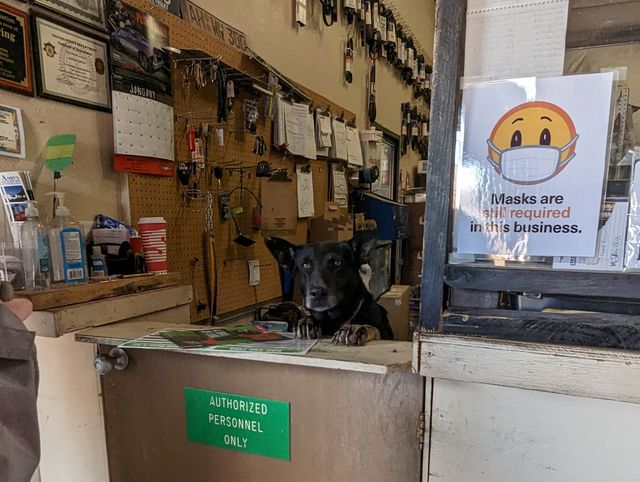 The tow yard people were -- just like last night -- very helpful and friendly. Their dogs were also very friendly, once they saw that we weren't a threat. After filling out the necessary paperwork, we went to the truck.
I opened the door and my phone was exactly where I knew it was. Awesome!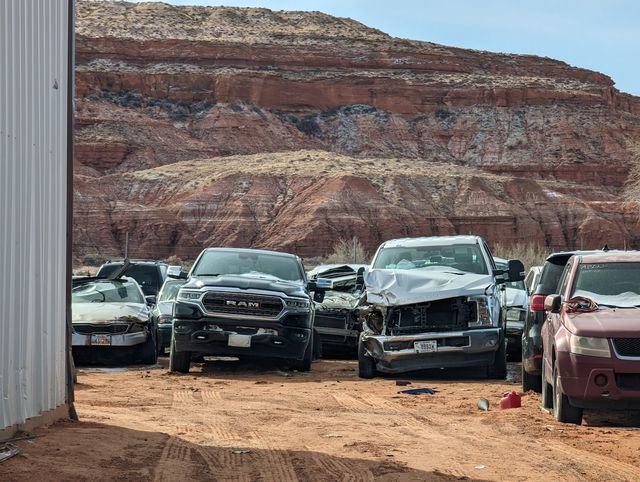 We also got a look at the other driver's car. With the power of hindsight, everyone (including that driver) knew that it shouldn't have been on the road.
It was being driven home from the auction where she'd just bought it
It wasn't registered
It wasn't insured
The tires were absolutely not equipped for driving in a winter storm -- and certainly not at the speeds she was driving
Oh well, live and learn.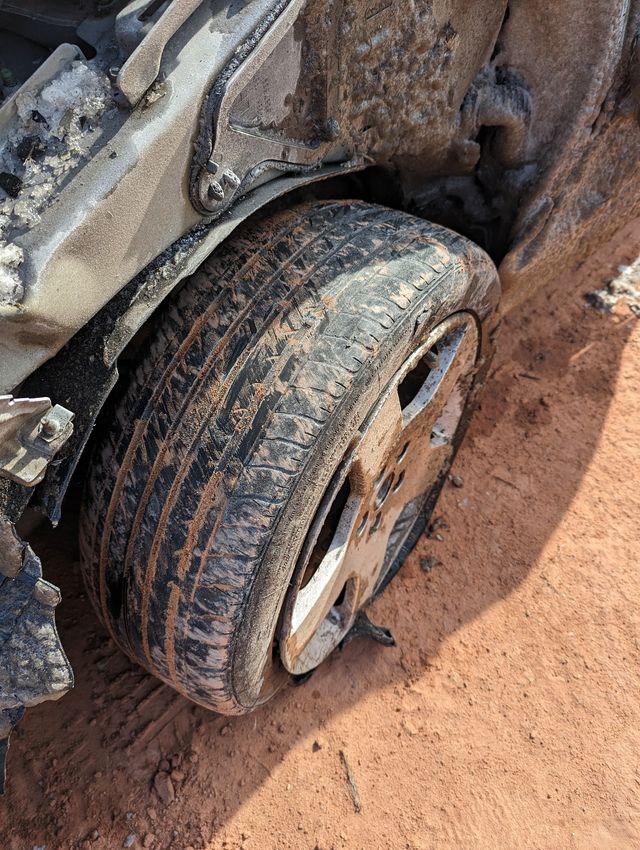 After that, it was direct to Lees Ferry! Five people + gear in a truck made it a very cozy ride, but the 90 minute drive gave us time to get to know Joe (& him to know us), and it went by very quickly.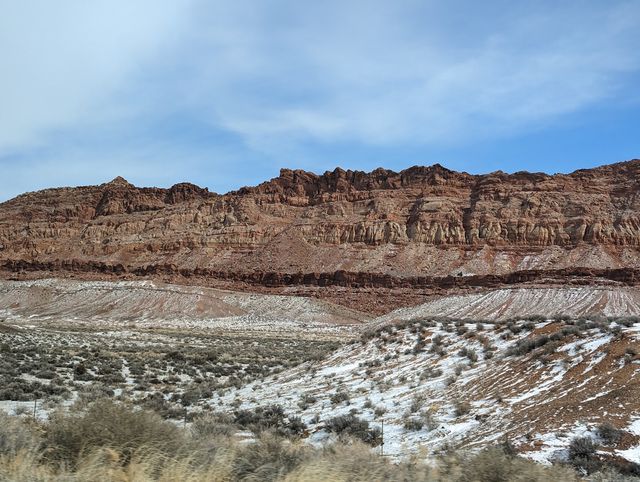 At Lees Ferry, only part of the group was there -- we were still waiting on a number of parties:
Nick, Joe L., and Peter were driving up from Phoenix
Parker, Lisa, and the outfitters were driving up from Flagstaff
That left the following people in Lees Ferry to do some pre-rigging before everyone else showed up (time I was very glad to have): Me, Iselin, Eivind, JB, Joe, Andrea, JF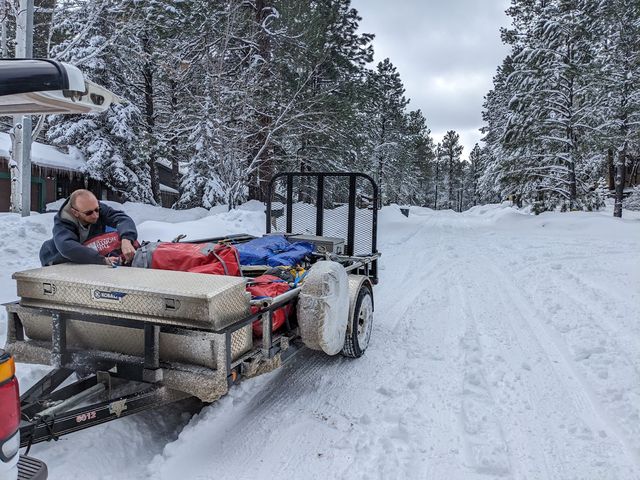 Eventually, everyone showed up and we did a little meet-and-greet while we performed the chaotic rig-day ritual.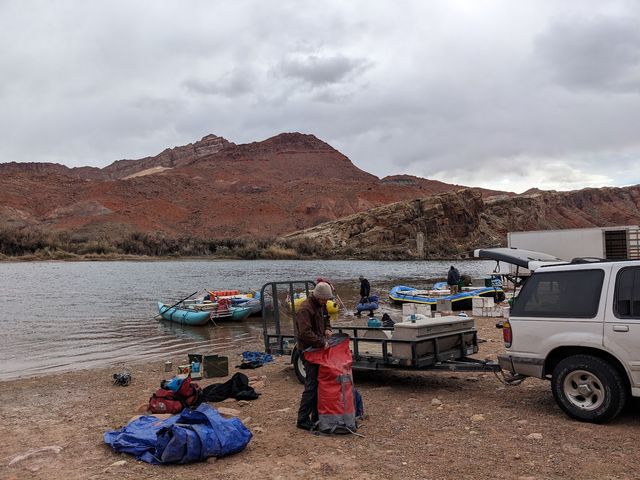 Soon enough, we were floating the rigged boats down to Boatmans Camp, where they'll spend the night. Some of us will be camping, and some of the crew booked rooms at a nearby motel for a last night of comfort.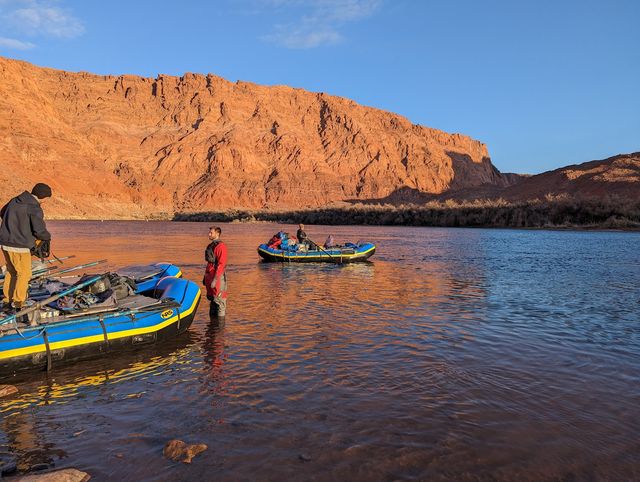 After everything was all settled, we all piled into the remaining cars and drove to get a group dinner to kick off the trip.
As luck would have it, the normal place (Marble Canyon Lodge) was undergoing renovations, so we headed to the other inn (maybe 20 minutes further down the road). When we got there, they were also closed, as they didn't have any guests.
Okay, time for Plan C: the gas station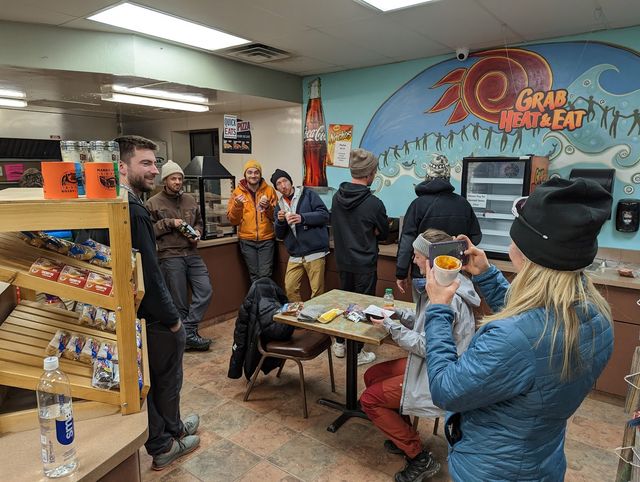 In the end, the group made it work and in good spirits. I took this as a good sign -- you have no idea wha the Canyon is going to throw at you, so you need to be able to roll with the punches.
After introducing ourselves and chatting about expected group behaviors and practices, someone drove us campers back to Lees Ferry to bed down for the night.